ドイツのPriska Pasquerにて、東川賞受賞作家 川内倫子氏の展覧会が開催中です。
Ametsuchi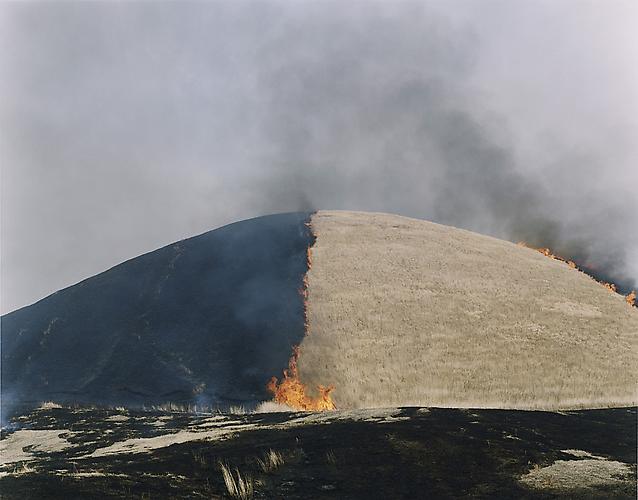 ©Rinko Kawauchi
RINKO KAWAUCHI | QUOTE
"The sunset I see from the window of my home tonight is similar but different from what I saw yesterday. Every day is in a continuum of new days, each somehow different from the next. [...] Throughout the world, we are comrades who share grace, and share as well the challenges to overcome any number of difficult obstacles. Even if our paths never cross, we who exist now on the same Earth certainly share something, a shared time and a shared space."
AMETSUCHI | THE EXHIBITION
GALERIE | PRISKA PASQUER is proud to present Rinko Kawauchi's latest series "Ametsuchi".
This is the first time that these photographic works have been shown in Europe as part of an individual exhibition.
Kawauchi's new series, "Ametsuchi" – which translates as "heaven" and "earth" – explores how mankind relates to time. Vast landscape pictures depict the traditional, controlled burning of farmland, demonstrating the destructive yet rejuvenating power of fire. The series of fire pictures are punctuated with abstract and calm images of stellar constellations and religious rituals.
In the earthy colours of her landscapes, the artist creates an "elementary simplicity [...] like fields of colour in a Rothko painting" (Florence Waters).
Interwoven with the images of recurring agricultural and religious rituals and starry skies, Rinko Kawauchi conjures up a connection between the past and the present, the spiritual world and reality, between Heaven and Earth.
RINKO KAWAUCHI | THE ARTIST
Born in 1972, Rinko Kawauchi is regarded as one of the most important female contemporary Japanese artists. Having lived for some time in New York, she has since returned to Tokyo. When studying at the Seian Junior College of Art and Design, she discovered photography as a means of expression. To date, she has published 16 photo books, including "Illuminance" (2011), which focused on transforming ephemeral elements of everyday life into something breathtakingly new.
Her works have been shown in individual exhibitions all over the world, including in the Tokyo Metropolitan Museum of Photography, Gallery at Hermès, New York, in the São Paulo Museum of Modern Art and in the Fondation Cartier pour l'Art in Paris.
Photographs by the artist are included in the collections of the San Francisco Museum of Modern Art and the Tokyo Metropolitan Museum of Photography. Since 2006, the artist has been represented in Europe by GALERIE | PRISKA PASQUER
EDITION | PRISKA PASQUER
We are very happy to continue our Special Edition concept for young collectors with Rinko Kawauchi. She has created a special edition work from her new series "Ametsuchi".
Following the example set by our Experiment Edition by Rudolf Bonvie we are able to offer an editioned print by Rinko Kawauchi for young collectors at our webshop.

 This artwork is a c-print, measuring 31.2 x 40 cm, in a limited edition of 1,000, signed by the artist.

Download Press Release (59 K)
*******************************
December 6, 2013 - March 8, 2014
Tue-Fri 11-6 I Sat 11-4
Albertusstr. 9-11,50667 Cologne ,Germany
http://www.priskapasquer.com/exhibitions/2013-12-06_rinko-kawauchi-ametsuchi/