飯沼珠実さん 展覧会「Japan in der DDR」
フォトふれ 展覧会のお知らせ。
ベルリンのアートブック専門店・Motto Berlinにて、飯沼珠実さんの展覧会が開催中です。
Japan in der DDR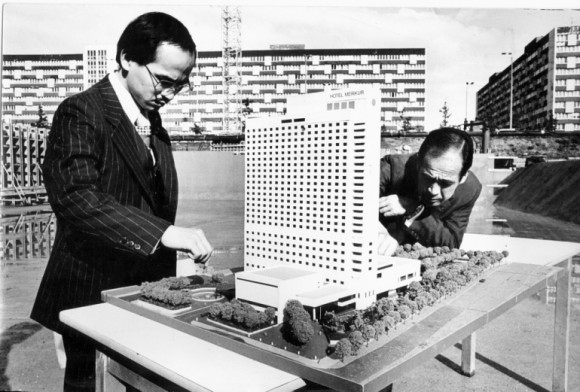 There is a strikingly conspicuous high-rise building behind the Leipzig Central Station that contrasts with the city horizon. The 96 meters high tower, in a dignified shining pearl color, was first called Interhotel Merkur and is now The Westin Leipzig. With 27 floors it hosts more that 400 rooms with event and seminar spaces on separate floors, shops, restaurants. It's a little city within the city.
In 2008, shortly after starting to study at the Academy of Visual Arts Leipzig, I learnt that it is one of the few buildings that a Japanese construction company has build in German Democratic Republic in the late 1970s (there is two other constructions to be find in Dresden and Berlin). Something around and in this building triggered me to feel at home. When I saw it, I thought of the World Trade Center in Tokyo, from the top of which I enjoyed the Summer Festival of fireworks one day before my departure to Leipzig. So at that time I started to project my personal conflicts of a stranger in a new city on this huge building which became both a symbol of my hometown (even if, to be honest, there is nothing Japanese in its architecture) and of my frustrations.
With the celebrations of the 25 year of the fall of the Berlin Wall and the end of GDR, I wanted to know more about this building. Until then I had just looked at it from a distance and I finally decided to enter the Interhotel Merkur after 6 years of observation. I booked a room for one night there, took my camera and opened the door.
The Four-star hotel was deserted. Its Japanese restaurant which was once the best in Leipzig had no guests. And a cleaning man said to me: « I have been working here since the opening of the hotel, it was full of business people from all over the world in the 1980s ». He also explained me that the hotel was a hotbed of "illegal" prostitution (however this prostitution took roll as the espionage). I went to the reception and asked: « I heard that this hotel was build by a Japanese company. Is that right ? » A young man answered: « never heard about that » but the next morning I found a letter in my room with that simple sentence : This hotel was built by the Kajima Corporation.
In the summer 2014 I visited the library of Kajima Corporation in Tokyo. The librarian, Ms. Oda, prepared for me archive photos of construction, company's monthly report, and even confidential documents. She also introduced me to Mr. Shimazu who was in charge of the architectural design team and lived in Leipzig from 1978 to 1981. I got the opportunity to hear their anecdotes, like the event that happened on January 12th, 1979 when the construction office was robed and all the money (GDR-Mark) from the safe was stolen. Additionally one roll of 35mm film that was in the camera of Mr. Sako, a colleague of Mr. Shimazu, had been gone as well. The camera was still in the office, but it had been opened and the negative had vanished. What was photographed in Mr. Sako's camera must be normally the hotel's construction process but that disparition had something from a spy movie. They went to the police but neither cash nor the film have ever been back.
I have been photographing modern architecture in Germany since 2008 and I am continuing to shoot similar buildings depending on my trips. In the process of creation, there is always a logical decision on positioning three bodies: the architectural body, the machinal body (camera) and my own body (photographer). But with Interhotel Merkur, I was strangely so excited that I could not measure the distances between the different « actors ». This architecture has, for me, the presence of a real and existing body that contains its story and its emotion. The building has its own life (which I am probably projecting on it) and, therefore, is reluctant to my photographs. But, for the History it represents, for its architecture (between classical Plattenbau and Japanese brutalism), for its role in my personal life, I decided to give it a try, again and again, until I obtain the right portrait of that motionless character of concrete.
When I left the archive of Kajima Corporation after my third visit, the librarian said to me: « Thank you, you shed light on our work, which has been forgotten ». This made me understand the real meaning of my obsession for the Interhotel Merkur: I sensed a Japanese spirit (or a soul?) in Leipzig. And I need to follow it before it flies too far away.
*This essay was originally written by the artist, and edited by Thibaut de Ruyter, for the publication「Stadt Bild / Image of City」(Cooperation by Berlinische Galerie, Deusche Bank Kunsthalle, KW Institute for Contemporary Art, Nationalgalerie-Staatlische Museen zu Berlin)
********************************
May 27 - June 9, 2016
Open Monday – Saturday: 12h-20h
MOTTO BERLIN
Alexis Zavialoff
Skalitzer Str. 68, im Hinterhof
10997 Berlin
http://www.mottodistribution.com/site/?p=41973