吉田和生さん 展覧会「感覚の遺跡 / RUINS」
フォトふれ 展覧会のお知らせ

台湾の台中にて開催される展覧会「感覚の遺跡 / RUINS」に、吉田和生さんが出展いたします。
感覚の遺跡 / RUINS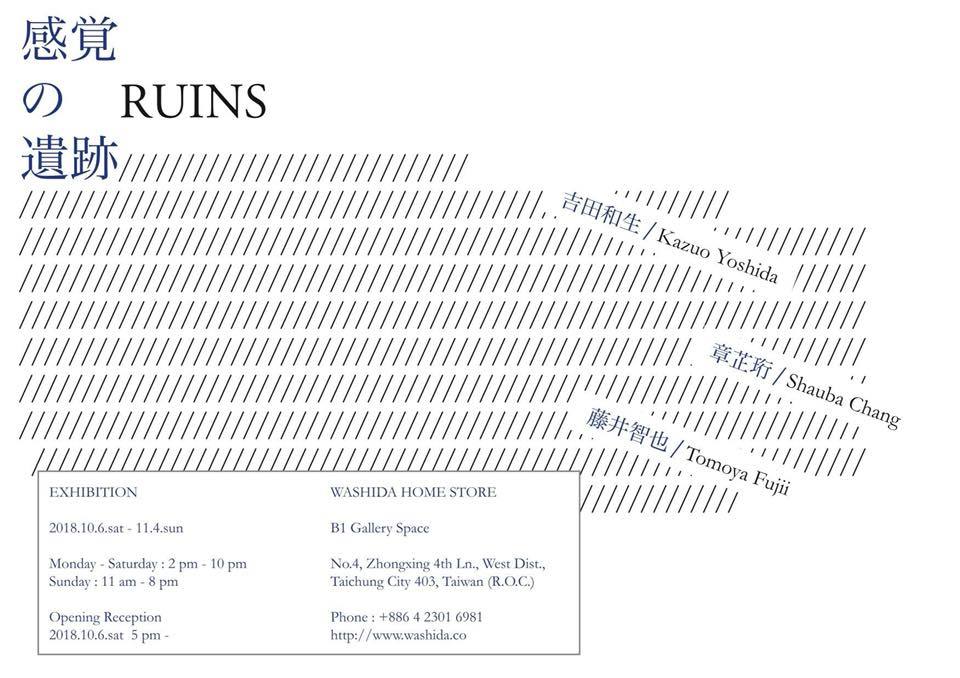 以下リンクより
Ruins of SenseThere is nothing immovable in time and space. Things will always begin, change, and perish. The same goes for formless things such as memories and emotions humans possess, and even now appearing from somewhere, those things continue to accumulate. This implies that at the least, we can say that every day we leave some sort of "trace" and are blessed by them. However, for both physical traces left in a place or traces left in memories, they eventually fade over time, appear in front of us as a kind of "ruin", and again vanish away with memories.-Kazuo Yoshida /Kazuo is conducting an examination of light while using both digital and analog methods back and forth with the questions exploring the origins of photography as a starting point. Tomoya Fujii /Tomoya is visualizing the relationship between the time axis and a medium of pictures by using techniques such as overlapping, cutting, and tying images within a specific rule. Shauba Chang /Shauba takes her interest in the process of what is becoming history. She tries to recreate a visible process based on her own personal experience, to examine how the desire of being, aging and dying defines time.In this exhibition, based on the theme "Traces", work developed by artists who individually confronted this topic is presented. And this time we will witness the excavation sites of these "ruins" as parties. _______
ABOUT ARTIST
-
Kazuo YoshidaBorn in 1982, Hyogo, Japan. Yoshida graduated from the University of Shiga Prefecture in 2004. He attempts to establish a new index in the present age through a process of collection and reconstruction using various media such as the uncertain elements of time, space and color. In 2012, he received the Grand Prize at the 11th Gunma Biennale For Young Artists. Major exhibitions:" Attitude Control " (Kalasatama Studio Building, Helsinki, 2017)" Tsushima Art Fantasia " (Tsushima Art Center, Nagasaki, 2017)" 3 x Tokyo " (Nordland Kultursenter, Bodø, 2016)" Japan Media Arts Festival " (Kushiro Art Museum, Hokkaido, 2014)" Picturing Plants " (The Museum of Modern Art Gunma, Gunma, 2013)Upcoming exhibition will include a group exhibition at Seoul Museum of Art.
http://www.yoshid.info/index.htm
-
Tomoya FujiiBorn in Kagawa, 1984 and curently living in Saitama, Japan. He graduated from Department of Arts, Osaka University of Arts in 2007, then studied photography at the Gerrit Rietveld Academy in Amsterdam, 2015. In 2016, he was nominated to shortlist of "Unseen Dummy Award" which was organized by Foam museum in Amsterdam. In 2016 and 2017, he was selected to "TOKYO FRONTLINE PHOTO AWARD" which is known as one of the most radical photo award in Japan. With growing international recognition, he continues to explore the possibility of Images.Major exhibitions:" NEW VISIONS # 03 "(G/P gallery Shinonome, Tokyo, 2016)" Raw " (Pon ding, Taipei, 2017)" Raw " (CIY, Morioka, 2018)
https://tomoyafujii.com/
-
Shauba ChangBorn in Taoyuan, Taiwan, has received her Master degree from the Slade School of Fine Art in London. She has been practicing art through exhibitions, pop-up events and publications. She's the founder and the chief editor of waterfall, an online curatorial project in the beginning and then turned into a publishing house/design studio afterwards along with a 6-issues-only magazines project NOT TODAY. In 2016, Shauba relocated herself with a newproject "dmp editions", a multi-task project involving publishing, curating, art direction, making artworks, eating and napping, hosted by Shauba Chang and didi. They both currently lives and works between Taipei and internet.
http://www.hiwaterfall.com
https://cargocollective.com/dearmyparty
http://takeoneforall.com/
https://www.facebook.com/dmp.editions/
________
******************************
Ruins of Sense
2018.10.6 Sat. – 11.4 Sun.
Opening reception: 10.6 Sat. 17:00-

Address|No.4, Zhongxing 4th Ln., West Dist., Taichung City 403,Taiwan